This article first appeared in Wealth, The Edge Malaysia Weekly, on February 27, 2023 - March 05, 2023.
During the pandemic, "buy now, pay later" (BNPL) start-up Split processed more than RM100 million in transactions within two years. Yet, co-founder Dylan Tan bit the bullet last November to exit the business and launched a new, yet similar, solution for consumers.
Sugar, the brand name of the new solution, offers the masses "save now, buy later" (SNBL) services. It encourages them to lay down a purchase plan to buy big-ticket items — such as vacuum cleaners, mattresses or iPhones — and rewards them with cashback offers. Items are delivered once they are fully paid for. 
In a recent interview, Tan tells Wealth that SNBL is a more "ethical" solution than BNPL for consumers. Instead of extending loans/credit to consumers by charging a fee on the merchant — which could cause consumers to overspend, as they do not need to bear the credit cost — SNBL encourages users to save money over time to purchase the things they want.
"Both are tools that you as a consumer can use for your own benefit; it depends on how you use it. But when you see that [Bank Negara Malaysia] is looking to regulate BNPL, that certainly says something [is not right about it]. Overall, yes, I think the SNBL solution is more 'ethical' than BNPL." 
Tan says, however, that he would not consider it an ESG (environmental, social and governance) solution as yet. "We could pitch our solution from an ESG perspective to investors, but we have to better define [how we are ESG-compliant] before doing so, especially on the social aspect. We are still encouraging people to buy, right?" says Tan frankly. 
The main reason for the pivot, however, is the collapse in the BNPL industry globally as the share prices and market valuations of those companies started crumbling last year. 
According to Tan, most pure-play BNPL firms listed on stock exchanges have seen their share prices plunge as much as 90%, some even more. At least two public-listed entities in Australia — Openpay Group Ltd and LayBuy Group Holdings Ltd — are delisting from the Australian Securities Exchange (ASX). 
The industry is a victim of rising interest rates, says Tan, as they were forced to borrow money from institutional investors at higher rates to help consumers settle their payments to the merchants in advance. This eats into their profit margin. Default rates were also creeping up, as global economic growth is expected to remain sluggish this year, with a potential recession ahead. 
Customer acquisition costs have also risen, as people spend less time online now, having returned to shopping in physical stores. Merchants would now have to spend more on digital advertising or come up with other marketing methods or campaigns. 
"With all these factors combined, I asked myself in early 2022 whether I could build a sustainable business with BNPL and give my investors meaningful returns. The answer was 'no'. I wanted to take a calculated high risk with high rewards. And I decided that the rewards were not worth investing our time and money in the business."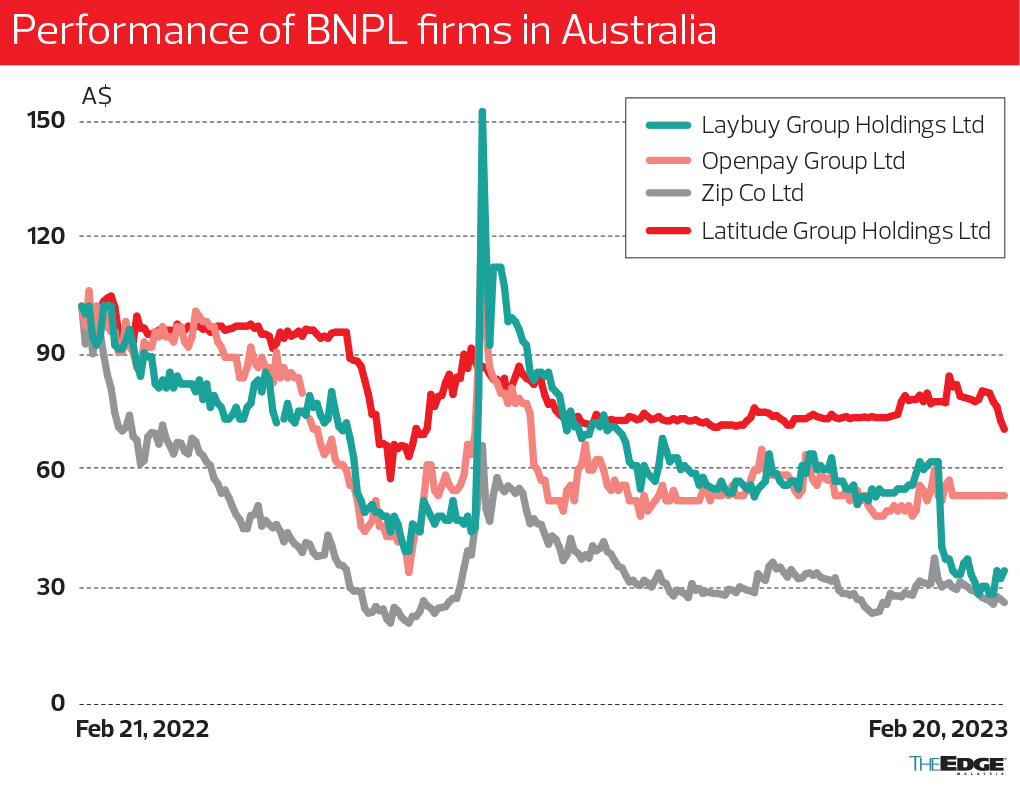 Flexible purchase plans 
So, how does Sugar work? The process is rather simple. After downloading the mobile application (app) from the app store, users register themselves on the app and link their debit/credit cards to it. They then scroll through the menu to search for the things they want to buy. 
As at Feb 17, the items available on the app include: an Apple iPhone 14 Pro (RM5,049); a King Koil Luxury Sultan Suites mattress (RM9,498); a Dyson V15 Detect Absolute vacuum cleaner (RM4,999); an Inissia D40 coffee machine (RM699); and an Unbox DJI Mini 3 Pro drone (RM3,399). 
After choosing their item, users can choose from two payment options. The first is an option for a customised purchase plan. Users can decide how much they want to pay in a specific period and how long it will take before the item is fully paid for. 
Alternatively, users can select certain criteria and let the app do the planning. For instance, they can choose whether to pay weekly, fortnightly or monthly, and the app will work out a plan that deducts money from their credit or debit card. 
Every time a payment is made, a cashback amount is accrued to users' accounts. The actual cash will be credited into their bank account once the full payment is made. 
The app does not show how much cashback users can get, though. "The cashback rate can be as low as 1% of each payment made, or it can go as high as close to 100%," says Tan. In general, the overall cashback rate on Sugar could go up to about 5% for a two- to three-month payment. 
"We make it indeterminate so that it is more exciting, because a 100% cashback is always possible. It's an incentive for users to continue with their purchase plan."
Another reason for the indeterminate cashback amount is that Sugar lets merchants decide how much to reward app users. 
If users decide they no longer want to purchase an item but have already started paying for it, they can receive a refund if they cancel their order as early as one to two working days after placing the order. There will be no penalty. 
"The exception to getting a refund is when a merchant needs to customise a product for you before the purchase [is fully completed]. They need to purchase certain things to customise the items and a certain cost is incurred. 
"In this case, the app will notify users of the cancellation date, or when the purchase will be cancelled if subsequent payments are not made. You cannot get a refund after that date," Tan explains.
Moreover, the app allows its users to edit their purchase plan, which means switching the items they intend to purchase while saving for one. 
"Let's say you are already halfway through your purchase plan and no longer want the item but want to buy something else instead. You can text us using the WhatsApp number on the app and say, 'I don't want to save for this, but I want to save for another item.' We will solve it. The cashback reward should be the same if the next item in your purchase plan is from the same merchant."
App users who can purchase specific items in one lump sum are welcomed to split their payments by using the Sugar app for cash rewards. "Yes, go ahead and use the app, because it is in our interest. We help the merchants get customers," says Tan.
Where is customer's money held? 
An important question users might want to ask is where their money goes when they make payments in each period before fully paying for an item. Could there be a mishandling or an abuse of funds? 
Tan says there are two scenarios as to how consumers' money is kept. By default, Sugar wires the funds to the merchants once payments are made. 
"Their money is kept by the merchants. From a business perspective, the merchants get cash flow and future orders, so it helps their business." 
Some merchants lack an adequate accounting department that can record all early payments and cashback paid out. These merchants would then opt for Sugar to keep customers' funds and receive the full amount once items are fully paid for. 
Tan acknowledges that the firm should identify a reliable third party to hold customer funds. It has yet to do so because the platform was launched only last December. Its sales figure so far this year, however, has already surpassed RM1.5 million.
"As we scale, we need to find a way to hold customers' money. We are still very small now. We will do that once we get bigger," he says. 
To safeguard users' money, Sugar emphasises vetting the merchants. They are typically bigger size, reputable players in the industry such as Urban Republic, which sells mobile phones, audio gadgets and accessories. 
Unlike BNPL firms, which focus on vetting consumers' credit history, SNBL companies place their emphasis on the merchants. "Our due diligence on the merchants has to be stronger. We used to vet the consumers; now, we vet the merchants," says Tan.
As for monetisation, Tan says Sugar charges merchants a listing fee as well as transaction fees on items purchased. The former is not set in stone yet, as Sugar is proposing different rates to merchants, depending on their business size and proposals. The transaction fee is "very affordable", he says, and comparable to credit/debit card charges. 
Delayed gratification versus instant gratification 
Sugar is not alone in offering consumers SNBL services. There are Accrue Savings in the US, three to four similar firms in India, and one in South Africa called Layup, says Tan. 
The start-up's journey ahead will be challenging, as it could be competing for the same users of BNPL or with credit cards that provide users with instant gratification. These users get the products on the spot and worry about the repayments later. 
Sugar thrives on delayed gratification. "We know the customer hook [of our service] isn't as strong as that of BNPL. It is missing the element of instant gratification. But we also know SNBL has a use for certain groups of businesses and consumers," he says.
In fact, it is because of customers' feedback that Tan came up with the idea of launching Sugar. Some users of Split — Tan's previous BNPL firm — approached merchants to ask for SNBL services, but most merchants cannot do that because of their lack of accounting capability.
Tan says SNBL is particularly appealing for purchases that consumers plan for before purchasing; they include travel packages, home renovation and wedding-related services. 
The addressable market for SNBL could be huge. According to Tan's research, about 5% of total e-commerce transactions done globally during the pandemic period were done with BNPL. The rest was through cash, online banking transactions, debit cards or other methods. 
On top of that, most merchants he spoke to said only about 20% of customers who visited their stores ended up purchasing something. 
Tan hopes SNBL can be an alternative payment solution that can help merchants garner sales both online and offline. "The biggest challenge for us now is to find the right product-market fit, which is a big term to describe something that people would really want to use," he says. 
While the firm does not intend to raise funds for Sugar soon, Tan is looking to engage investors to talk about his plans. "We want to start getting in touch with investors," he says. 
Tan: I'm in it for the long haul and I want to see how far I can take this
Who is Dylan Tan? 
Born in Kuala Lumpur and raised in Penang, Dylan Tan, co-founder of "save now, buy later" (SNBL) start-up Sugar, not only obtained his tertiary education in Singapore but also developed his entrepreneurial skills there.
Tan says he interned at three multinational companies in the digital media, management consulting and fast-moving consumer goods sectors while studying business management, marketing and corporate communications at the Singapore Management University. 
"I was trying to figure out what I wanted to do and ended up realising I hated all of them," he says. 
Upon graduation in 2014, Tan rejected a job offer from Google for a sales and marketing role to join his former boss at a less well-known, but growing, tech company called Skyscanner. 
The decision was certainly unconventional. "I'm the kind of person who likes to be contrarian and take risks. I knew that, if I worked with Google, I might be very happy, have a more stable career and pursue the path of moving up the corporate ladder later. But I probably wanted to take more risks and have more excitement." 
Four years later, Tan became the sales manager of Skyscanner in charge of advertising in Asia-Pacific. The firm was then acquired by China travel service provider Ctrip in Dec 2016 for about US$1.74 billion. Tan held a small amount of shares in Skyscanner and made money.
"But it was really more about the journey than money. That was when I realised growing a company can be so exciting. It was like being on a roller coaster, from hiring just a few employees to having a successful exit. That was when I wanted to start my own company. So, I quit the company [and started my own]." 
The first start-up he co-founded was called Early Booker. Drawing from his previous experience of running a travel business, he ran the firm on a business model that allowed users to purchase travel early and pay later, essentially a form of the "buy now, pay later" (BNPL) service.
Early Booker's breakthrough came just before the 2018 general election, when many overseas Malaysians scrambled to book a flight ticket home to vote, only to find that the air tickets were very expensive because of high demand. 
"To make a long story short, we went on Twitter to search for people complaining about the air tickets being too expensive. We sent them a private message and said, 'Hey, can we pay for you first before you pay us back?' 
"Because we didn't have a lot of cash, I used my credit card to book tickets for them and they paid me back later. I actually shared my credit card details with strangers. We maxed [the credit card] out and found that people were actually paying us. That's how we started off."
Unfortunately, the Covid-19 pandemic hit in 2020 and the business ground to a halt. "Covid came and nobody was travelling. We had an existential crisis. We could either keep doing it or figure something else out," says Tan.
That was when he pivoted Early Booker to Split, which offers consumers BNPL services to purchase a variety of products. Split then became Sugar last December when he thought BNPL was no longer a good market to be in.
Tan says he enjoys the entrepreneurship journey and intends to grow Sugar into something bigger. "I'm in it for the long haul and I want to see how far I can take this. It excites me. Can I build a massive company?
"Of course, there's a high chance I will fail. And I'm very upfront about it. We might not even exist six months from now if things don't work out. But I'm willing to take the risk," he says.