This article first appeared in The Edge Malaysia Weekly, on February 27, 2023 - March 05, 2023.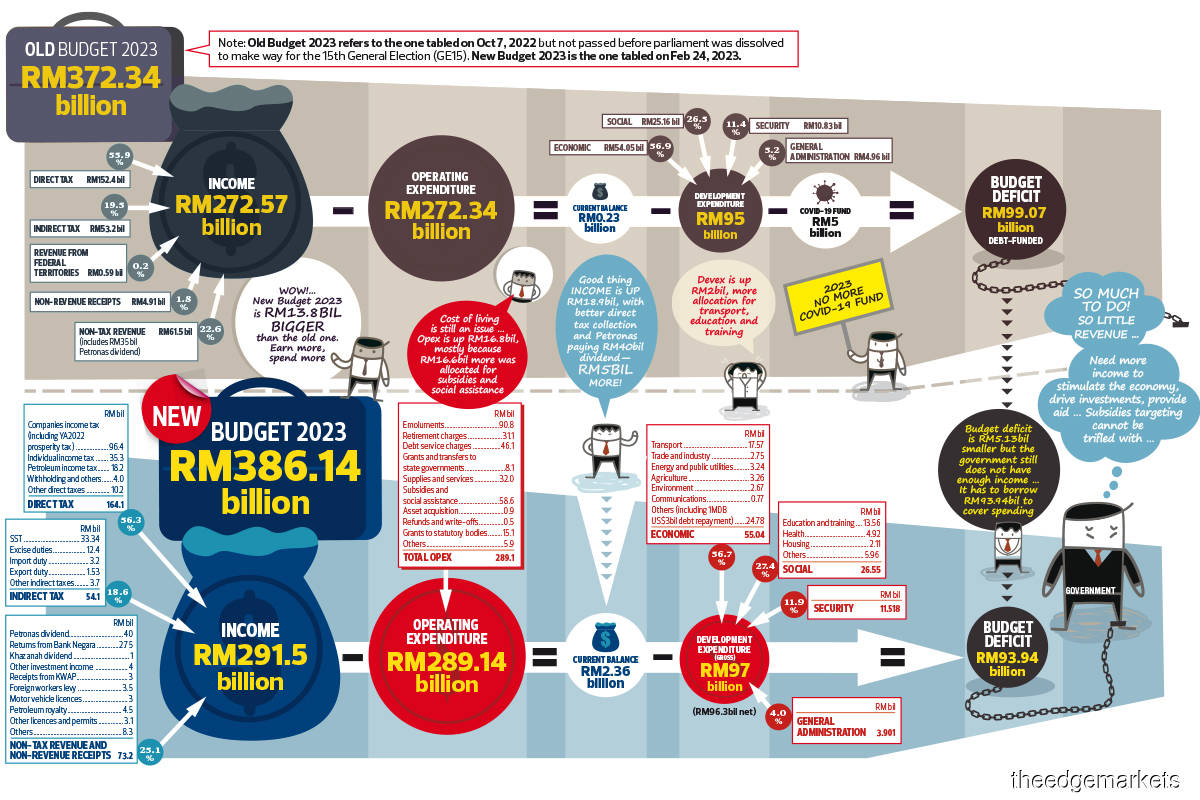 AS expected, the Budget 2023 tabled by Prime Minister and Finance Minister Datuk Seri Anwar Ibrahim on Feb 24 is bigger than and different from the one tabled by the previous administration last October ahead of the 15th General Election (GE15) on several fronts — remaining mindful of the need for fiscal discipline to rein in the country's hefty RM1.5 trillion debt and liabilities burden.
Even before the tabling of Budget 2023, those familiar with the country's economic data had noted that it was during Anwar's last tenure as finance minister (March 1991 to September 1998) that Malaysia last saw a budget surplus (see Chart 1 on budget deficit).
Official data from the 1970s show that it was during Anwar's tenure that Malaysia saw the highest number of years of budget surpluses — but this is not the first time that he is tabling a deficit budget.
To be fair, Malaysia also saw annual gross domestic product (GDP) growth rates that averaged above 9% a year in the early to mid-1990s, during which time there was a budget surplus as revenue was higher than expenses. When Malaysia last saw budget surpluses between 1993 and 1997, the country's GDP growth averaged 9.3% a year, with the economy expanding more than 9% annually every year except for in 1997, excluding which, growth would have averaged 9.7% (see Chart 2 on GDP).
It remains to be seen whether Anwar — who last Friday announced that the Fiscal Responsibility Act would be tabled in parliament this year — will be the one to finally deliver on the country's fiscal consolidation target, which had moved several times because of additional spending that was needed to save lives and livelihoods during the Covid-19 pandemic.
Under the latest medium-term fiscal framework (MTFF), Malaysia aims to reduce the fiscal deficit to 3.2% by 2025 — an aggressive target that would require next year's fiscal deficit to drop from 5% of GDP this year to about 4.1% of GDP next year, assuming all else remains the same, back-of-the-envelope calculations show.
It is still early days but, mathematically, a fiscal deficit of 4.1% next year is not impossible — especially if the economy grows according to Anwar's expectations this year — given that 2023 expenses were shored up by the US$3 billion 1Malaysia Development Bhd (1MDB) bond redemption in March.
Old versus new Budget 2023
First, a look at the numbers according to the "Updates on Economic & Fiscal Outlook and Revenue Estimates 2023" (EFORE) report issued in conjunction with the retabling of Budget 2023 as well as how the new budget is different from the old Budget 2023.
At RM386.14 billion, the new Budget 2023 is the biggest budget at the point of tabling — 3.7%, or RM13.8 billion more than the old Budget 2023's RM372.34 billion — but smaller than the 2022 pandemic-period actual spending of RM393.9 billion (see Chart 3 on budget size). (The RM388.14 billion mentioned in the budget speech includes RM2 billion set aside for contingencies that would shore up development expenses to RM99 billion. If spent, that RM2 billion would change the fiscal deficit to 5.1% of GDP, assuming all else remains the same, back-of-the-envelope calculations show.)
Meanwhile, the expected fiscal deficit of 5% of GDP for 2023 is not just half a percentage point smaller than the old Budget 2023 but also RM5 billion smaller in absolute (ringgit) terms.
It would be overly simplistic, however, to shrug off the difference just because Petroliam Nasional Bhd (Petronas) is also paying RM5 billion more in dividends to the government, at a total of RM40 billion, in the new Budget 2023. Without that extra RM5 billion dividend, the fiscal deficit would still be 5.3%, an improved headline number, thanks to better-than-expected GDP growth last year.
Even though Malaysia's economy is now officially projected to grow at 4.5% — the mid-point of the previous guidance of between 4% and 5% — in 2023, Anwar, when tabling Budget 2023, said he was confident that GDP growth would exceed 4.5% this year on the back of measures put in to stimulate investments and capacity building as a whole. It remains to be seen whether independent forecasts will also move higher from the current 4% range.
While it would be tempting to say Malaysia is again spending most of the excess revenue it gets instead of saving more for the rainy day, headline numbers show that money is going to the people. Some RM16.6 billion, or 98.8% of the RM16.8 billion increase in operating expenditure versus the old Budget 2023, is going towards raising the allocation for subsidies and social assistance to RM58.6 billion, from RM42 billion under the old Budget 2023 (see Chart 4 on subsidies).
The reduction in subsidies and social assistance from the RM67.4 billion spent in 2022 is likely a result of lower energy and commodity prices, given that there was no mention of it when the new Budget 2023 was tabled. The EFORE report says "a more effective and targeted subsidy mechanism will be rolled out on selected essential goods and services", but no details were given, apart from a mention about the expected "gradual" shift towards a more targeted system.
The oil price assumption has been revised to US$80 per barrel under the new Budget 2023, from US$90 per barrel under the old Budget 2023 — both of which are lower than the average of US$100 per barrel in 2022, when the headline subsidies bill was reportedly near RM80 billion.
In any case, there is no denying that food inflation is still high and the cost of living remains a concern worldwide. The upper bound of the official inflation forecast for 2023 had been raised to 3.8%, from 3.3% previously, with the lower-bound figure still at 2.8% versus headline inflation of 3.3% in 2022.
Noting low wages and high food inflation of above 5%, Anwar did not shut the door entirely on a broad-based consumption tax but said now is clearly not the time to reintroduce the goods and services tax (GST). Budget measures, however, include those that could help raise incomes and create more higher-paying jobs in the future (see Budget 2023 reports on Pages 50 to 56).
Without going into specifics, the EFORE report says "various initiatives have been identified to address issues related to public finances, including exploring new sources of sustainable revenue and minimising leakages". The report also mentions that the government was looking at a defined contribution scheme for the civil service, but no details are given.
When tabling Budget 2023, Anwar announced new taxes that would affect those perceived to have higher disposable income. They include taxes on luxury goods purchases, a rise in personal income taxes on individuals with more than RM100,000 annual taxable income as well as excise duties on vape liquids or gels that have nicotine to help shore up funding for the Ministry of Health.
Because of a loss of RM995 million in income tax revenue as a result of a reduction in lower-bracket tax rates, the net impact of these new tax measures are currently estimated at a net revenue loss of RM753 million this year, according to the updated 2023 EFORE report.
Still, now that the pandemic is largely behind us, it is apparent that more thought has been put into Budget 2023 to rebuild strategic capacity, mobilise the people and get more bang out of every available ringgit towards pulling Malaysia out of the trillion-ringgit debt mountain that is a result of past leakages and largesse.
As mentioned by Anwar in his foreword in the 2023 EFORE, Budget 2023's overarching objective is to "ensure that the distribution of wealth and regional development are equitable and sustainable". He also admitted that the challenges that the government faces in ensuring that Malaysia becomes an Asian Tiger again requires strict fiscal discipline, while balancing revenue capacity and spending commitments, as well as gradually reducing the government's debt and liabilities. Reviews on public expenditure, he says, should also enhance spending efficiency in the long run — allowing the government to implement counter-cyclical measures when necessary and maintain Malaysia's economic resilience.
Interest payment of RM46.1 bil in 2023 exceeds Petronas dividends, nearly half of pandemic fiscal stimulus
Malaysia's headline debt-to-GDP ratio should reach 62% by year end, according to the "Updates on Economic & Fiscal Outlook and Revenue Estimates 2023" (EFORE) report, which details the federal government's expected revenue receipts and planned spending under the current administration led by Prime Minister and Finance Minister Datuk Seri Anwar Ibrahim.
That expectation corresponds with direct federal government debt hitting close to RM1.2 trillion by year end from RM1.08 trillion, or 60.4% of GDP, as at end-2022, The Edge's back-of-the-envelope calculations show.
The RM46.1 billion that Malaysia expects to spend on interest payments for its direct debt burden alone is nearly 16% of federal government revenue this year, double the 8% just 15 years ago in 2008 (see chart).
The ratio of interest payments to government revenue slips slightly from 16% in the old Budget 2023 to 15.8% under the new Budget 2023, thanks to expectations of higher tax receipts as well as RM5 billion in higher dividends from Petroliam Nasional Bhd (Petronas), but is still above the ceiling of 15% of revenue that Malaysia had successfully kept to until the Covid-19 pandemic hit.
That RM46.1 billion that is expected to go towards servicing the interest payments alone this year is not only larger than Petronas' special dividend of RM40 billion but is also nearly half the RM92.5 billion fiscal injection that the government spent on eight stimulus packages, with the headline figures totalling RM530 billion in 2020 and 2021 during the pandemic (see table).
And that RM46.1 billion excludes interest obligations on other debt and liabilities which, along with the RM1.08 trillion direct federal government debt, totalled RM1.4459 trillion, or 81% of GDP, at end-2022.
While higher revenue will bring down the proportion of federal government revenue going to interest payments, it still takes away tens of billions that could have gone to more productive development spending.
The higher cost of debt is already showing up on the books. The government's weighted average cost of borrowing was 3.765% in 2022, up from 3.299% in 2021, "primarily due to tightening of monetary policy", according to the EFORE 2023 report. — by Cindy Yeap