This article first appeared in Forum, The Edge Malaysia Weekly, on March 6, 2023 - March 12, 2023.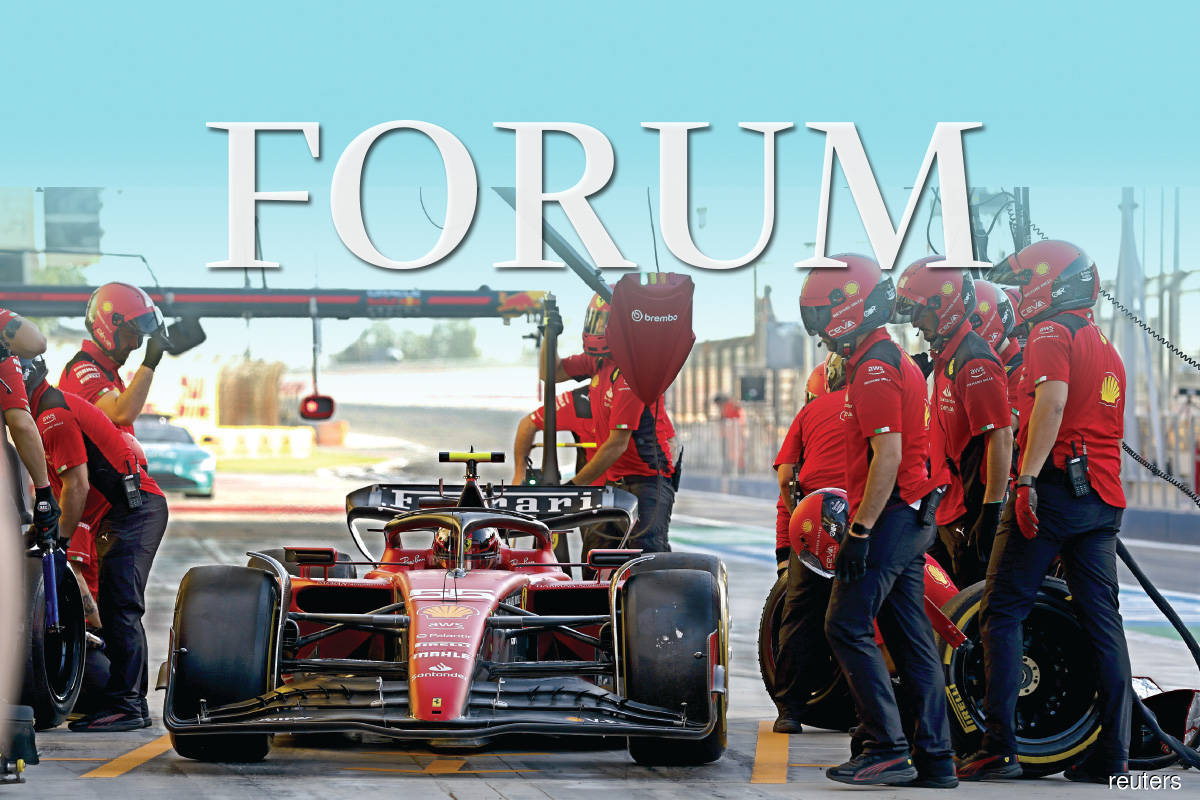 In 2017, when Liberty Media wrestled Formula One from a cranky, 86-year-old former car mechanic, the sport braced for a bumpy ride. The American media moguls coughed up US$4.4 billion for an ailing business they didn't know much about. But deep in the Sakhir desert of Bahrain on the weekend, when the lights come on for the seventh season of their stewardship, F1 has never shone more brightly.
A record 23 Grand Prix and six sprint events are headlined by a potentially classic duel as Lewis Hamilton bids to regain the crown from Max Verstappen and claim an historic eighth world title. Battles are expected throughout the field — even among teammates — as the sport's new competitive edge attracts record audiences.
If that's not enough to give Bernie Ecclestone seller's remorse, Liberty becoming the world's most valuable sports empire surely will. Now worth US$17.1 billion (RM76 billion) according to Forbes, with F1, which Ecclestone ran like a personal fiefdom, doubled in value. Not even Saudi oil billions can prise it from Liberty's grasp.
What the Americans do know about is the entertainment industry. And with a major reconditioning as well as a smart media campaign, they have literally done a 180, made the sport cool and found a new audience. In short, they have changed gears as well as direction from their predecessor by engaging the TikTok generation and giving F1 an American accent.
Six years ago, for all its hi-octane razzmatazz, when it came to viewers, it was seen as an old man's sport. Hardly any women watched, while a limited social media presence ensured it was only of fleeting interest to anyone under 30 years old.
To alter this perception, Liberty gambled on a huge untapped market — in its own backyard. Despite hosting a GP for many years in Austin, Texas, and at multiple venues before that, Americans had never embraced F1, preferring their own NASCAR and Indycar alternatives.
But after a more concerted push — with three races instead of one — the signs are the sport is finally cracking America. The success of Miami's inaugural race last year was a turning point, and a night race in Las Vegas in November will be another reason for Sin City not to sleep.
Liberty's first masterstroke was to sign up with Netflix, which sowed the seeds for fandom in the US and among youth around the world. Dubbed Drive to Survive, the fly-on-the-pit wall docuseries not only survived, it has just released its sixth season. And it received the ultimate acclaim of being copied by its peers: both tennis' Break Point and golf's Full Swing are hoping for a similar Midas effect. Makes you wonder what they will call it if they do chess.
Traditionalists may scoff but it puts the teams front and centre, showing the hi-tech sport's previously hidden human side. Once out of their cockpits and halos, the drivers came across as the kind of guys the Next Gen would want to hang around with and it belied Ecclestone's view that F1 was wasted on the young.
He would ask, "Kids will see the Rolex brand but are they going to go and buy one?" ESPN's audience demographics for 2022 suggested they are at least paying attention with a rise of 49% among 12- to 17-year-olds. It was 29% among 18- to 49-year-olds and 34% among females.
The old impresario also got it wrong about Hamilton — although not entirely. "What we need are six like him," he once said. But Hamilton and his Mercedes team were part of the problem: they monopolised the sport and had the freehold on both the drivers' and the constructors' podiums. It was a turn-off.
Last year, the Briton didn't win a race and Mercedes finished a humiliating 254 points behind runaway winners Red Bull. The once-unassailable Silver Arrows were even pipped to second place by Ferrari. The viewing figures were through the roof. Hamilton, though, was still ahead of the pack on Instagram and even among fans for whom F1 is a mystery.
When it came to the US market, Liberty was predictably several laps ahead of the old regime. With the takeover imminent in 2016, Time magazine wrote: "Incoming CEO Chas Carey sees the chance to brand Formula One as an upscale alternative to other racing circuits [in the US]. He says: 'NASCAR is sort of T-shirts and beer. This is the sport of stars and celebrities. It's champagne'." To which Ecclestone replied, "If so, Hamilton is Dom Perignon."
In 2022, the 37-year-old knight of the British realm not only drew a blank but was even outdriven by teammate George Russell. Still, Petronas-sponsored Mercedes expect to have a competitive car this season, even if it takes a race or two. Prancing old warhorse Ferrari also hopes to challenge for Red Bull's crown.
New faces adorn the pit lane and old ones are still lurking. Ex-champion Fernando Alonso will be at Aston Martin while Sebastian Vettel may return to the sport in 2024. There are new circuits but many of Europe's classic venues are still there. North America has five races in all, the Middle East four while former stalwarts, Ford and Honda, are planning to return to the fold when engine regulations change in 2026.
Almost forgotten amid today's optimism, Liberty's initial moves were not an overnight success. Indeed, their levelling up plans encountered fierce opposition from the big teams. Then came the pandemic, taking a whopping 43% off revenue in 2020. Liberty's response was to transfer assets into the sport to support teams that were struggling. It also managed to hold 17 races despite Covid limitations. And Drive to Survive lived up to its name with much-needed revenue.
But key to improving the competitiveness were rules that capped spending and made overtaking easier. Car designs were changed and power unit development was frozen so that big tech could not blaze too far ahead in development. The top teams eventually settled on a cap of US$145 million (excluding marketing expenses and driver salaries).
There were other tinkerings. In 2018, Amazon Web Services (AWS) became the official cloud and machine learning provider for F1, flooding the sport with data. Coverage included highlighting where to overtake and when to pit — juicy extras eagerly gobbled up by a tech-savvy generation. The new owners also relaxed the digital rules allowing teams to use real footage — a godsend for spreading their messages on social media.
It wouldn't be F1, though, without a few rows and the most recent one concerned freedom of speech. The sport's governing body tried to clamp down on drivers speaking out, which was met with predictable opposition from politically and socially aware drivers.
There was also an inexplicably brief pre-season testing period that saved money but risked a lack of preparation. And it may have backfired as Red Bull were still ahead of the rest although Mercedes are confident they can catch up.
Most noticeable was that most of the cars were black. It's all about weight — the simplest way to save is to not paint the car. Yes, it's only grammes but so fine are the margins — testimony to the levelling up that's been done and why the sport is on a much sounder footing and a better spectacle than it was in 2017.
---
Bob Holmes is a long-time sportswriter specialising in football