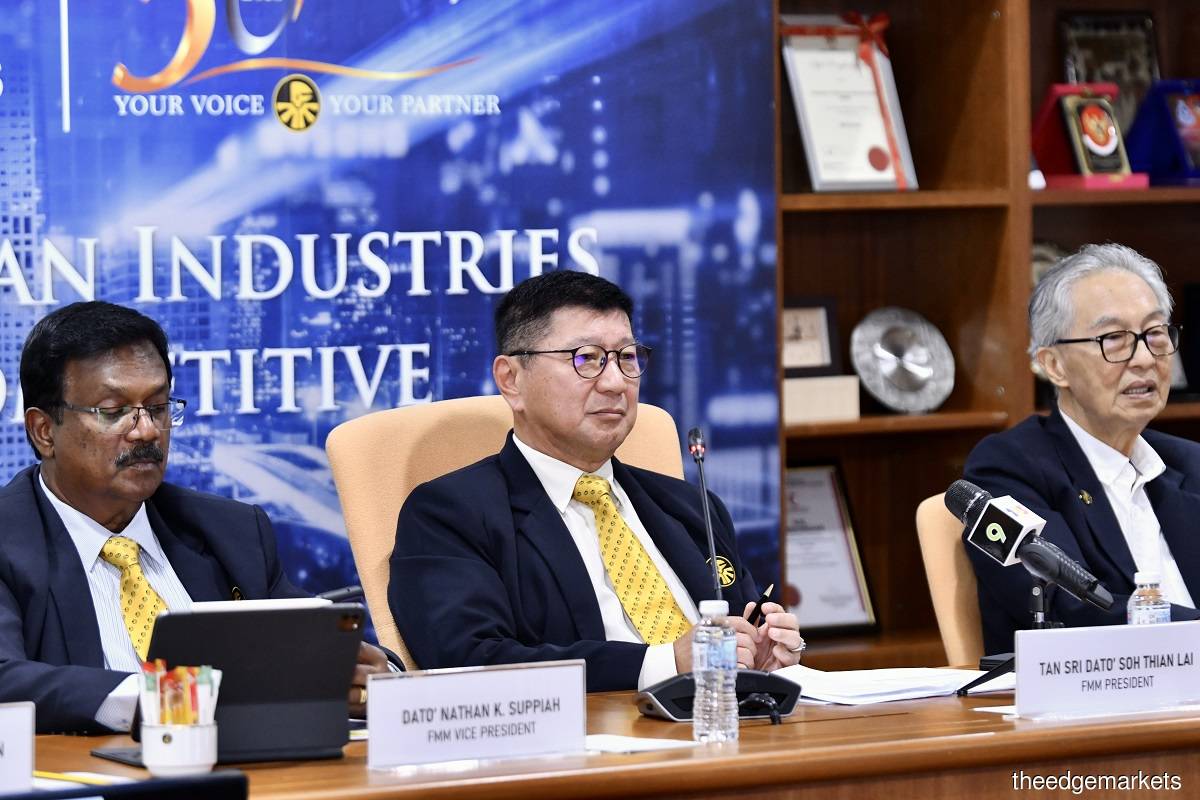 KUALA LUMPUR (March 16): The top three risks to business recovery and growth in 2023 for Malaysian manufacturers are input cost pressures, higher energy cost and fluctuations in the ringgit.
The Federation of Malaysian Manufacturers (FMM) said that based on a survey among 745 respondents nationwide between Jan 18 and Feb 18, 70% said that upward pressure on input cost is the highest risk within the global and domestic economies moving forward.
This was followed by increasing cost of energy, including gas and electricity, according to 64% of the respondents. Meanwhile, 62% of the respondents of the FMM's Business Conditions Survey said that fluctuations in the ringgit is a top risk to their operations.
The next five biggest risks are rising competition (49%), access to domestic skilled labour (46%), geopolitical tensions (46%), rising interest rates (45%), and supply chain disruptions (43%), according to the survey respondents, with access to foreign skilled labour and difficulty in obtaining financing the lower risks among them.
Manufacturers expect moderation in 1H2023
In terms of the overall outlook for the first half of 2023 (1H2023), FMM president Tan Sri Soh Thian Lai said the manufacturing sector is showing further signs of moderating, as manufacturers continue to brace for challenging business conditions to persist in the coming months.
"Attesting to this are the forward-looking indicators, which are suggesting a slowdown in capacity utilisation, capital investment, hiring and a relatively tame outlook on production for 1H2023," he said at a press conference at Wisma FMM.
"It is also likely that inventory levels may be moderated in line with the current trends in demand. Except for cost of production, capital investment and employment, all the other indices have also registered below the demarcation level of optimism, further surmising the slow outlook going forward," said Soh.
He added that most respondents (30%) expect their profits to increase by 1% to 24% in 2023, 24% expect no change in profits, and another 16% estimate their profits to be lower by 1% to 24%.
In the next 12 months, Soh said the top five investments that the majority of the respondents are planning to venture into are new product development (61%), automation (56%), upskilling and retraining of existing workers (55%), export market expansion (49%), and adoption of green technology or energy-efficiency measures (37%).
Read also:
FMM believes foreign workers intake in Malaysia will breach a million in 2023
FMM says 77% of M'sian manufacturers not utilising RCEP, CPTPP agreements yet
Kamarul Azhar Azmi & Isabelle Francis